This weekend/month/year has flown by! All of a sudden, the last weekend before Christmas is complete. Have I gotten my Christmas shopping complete? Not entirely.
But rather than dealing with crowds at the mall this weekend, we met my old roommate and his wife and daughter at Disney's Animal Kingdom. After we begged him/them to bring the kid, who did really well. We spent close to three hours at the park, walking around, and were even able to take little Harley on a couple of rides! I'll have a review coming soon, of course, and also a little... soapbox to get on.
When we got back to the car and checked our phones, we found out that Scott's parents were at our house. An hour away! We were wrapped up and heading back that direction, anyway so we just maybe drove a little faster.
Sunday, we hung out around the house and I finally cooked up my mince meat pie. I'm hoping the crust turned out well and I didn't completely screw it up. But, I figured I'd finish showing ya'll the Christmas decorations today since the family made it. And in the process, reveal the guest rooms in the new house!!
Remember
this post
? I wound up repainting the "purple room" Bakelight Gold by Sherwin-Williams, and I love it. I also repainted all the trim and doors a SW ultra white color, and it really made it pop. It looks so much cleaner now! All of the lamps for in here, I found at our local Restore, and paid a grand total of $25 for the three of them. The two on either side of the tv, were originally brown and nasty brass. I spray painted the entire thing with
Oil Rubbed Bronze
spray paint
(affiliate)
, then topped them with some gold square bell shades from Lowes. Spoiler: one shade cost more than all three lamps, which irks me.
This is my in-laws' room when they come to visit. For Christmastime, I added a little buffalo check pillow with a deer head, from the Target dollar bins....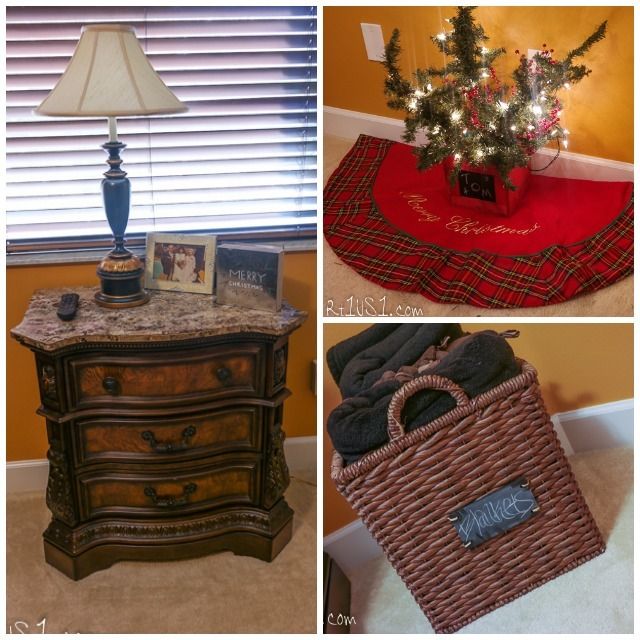 I have another Target Dollar Spot decoration on the nightstand; it's blocking our view of little Rylee and her Grandpa.
I ran across this $5 red box from Michaels when I was in there buying paint for
one of my DIY projects
, and put these 4 fake trees that I got at an after Christmas sale last year. When I got them out to look at, they looked pretty sparse, so thought it best to bunch them all together. I wrote my father-in-law's name on the front to make him feel special, then set it on top of a folded Christmas tree skirt. This was meant to be a night light for their chocolate lab, but it's a little too bright.
The basket with all the blankets is another Target find, but NOT in the dollar section. the chalkboard tag they have on the front and side of the basket is not the best after a couple of uses. But I use it to hold some of the fleece blankets that I've acquired, even though we live in South(ish) Florida.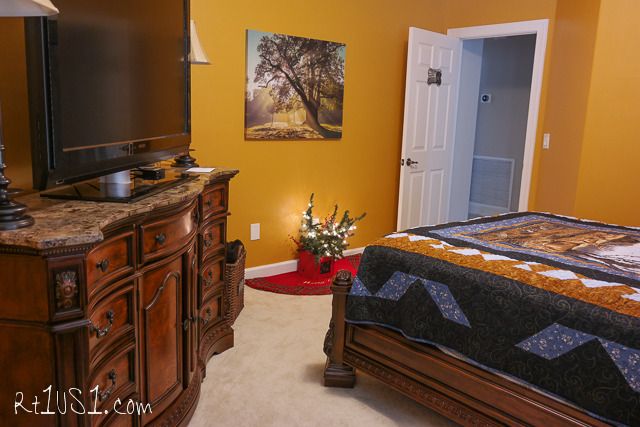 And finally, a the view from the closet area. This room is oddly shaped, so we go from bunches of space to a narrow space to get to the other side of the room. I got the canvas at Lowes for $30- the one piece of art that Scott picked out himself!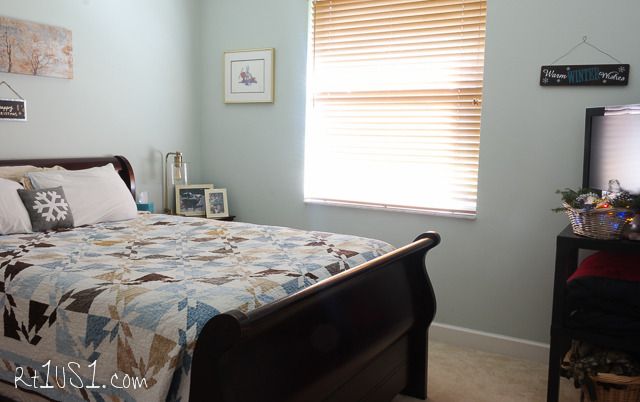 The other guest room is light, bright, and airy. It did not require me repainting, though I DO need to paint the trim and doors in here. The canvas above the bed was another Lowes find, that was meant for the gold guest room. But, after much deliberation, I felt it fit better in here, along with the Bugs Bunny lithograph from Scott's dad.
The quilt on the bed is a "Hunter's Star" pattern that my mother-in-law made Scott years ago. I added a little "Happy Christmas" sign (from that dollar spot again!) under the canvas, as well as a little snowflake pillow. The sign by the window is also a Target special. Basically my house could be a Target ad.
The lamp on the nightstand is also from Target and I don't even feel bad about the price of it, which I can't even remember, but I know it was a lot more than what the others cost! The photos on the nightstand include one of Scott and his Grandma when he was a small child, one of him, his uncle, and a long time family friend, and an 8x10 of a "kamikaze deer," courtesy of his uncle. Every time he walks in there and sees it, he twitches and I laugh.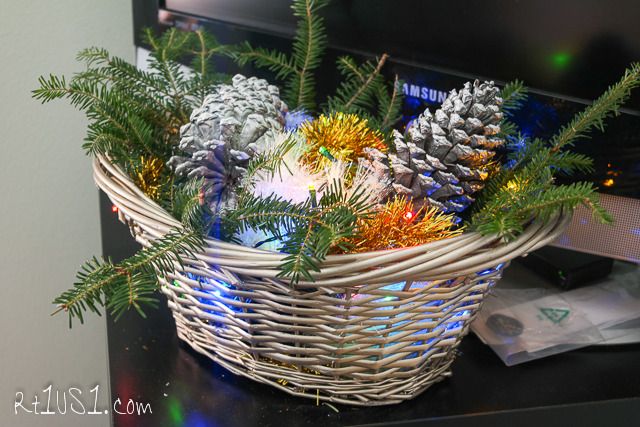 Apparently I was so impressed by this shot, that I didn't care that all the instructions for the cable box was still in view. This is similar to what I did last year with my grandfather's basket. I found this silver wicker basket at Michael's for $5 and threw a couple colors of garland (white and gold) in there. I added the tips (fir boughs!) that were trimmed from the bottom of our Christmas tree, some battery operated LED lights, and some spray painted pine cones and voila! A cute little smell good arrangement for the guest room!
So here you have (finally) the first shots of our new home, just in time for Christmas! What do ya'll think!!
Linking with B Loved Boston, Her Heartland Soul, All Kinds of Things, and Live Randomly Simple