It's finally cooling off a little in the evenings down here, and since we have sliding doors to our patio on the entire south side of our house, they have been open all weekend long. I have to brag that this was my view from the couch Friday night...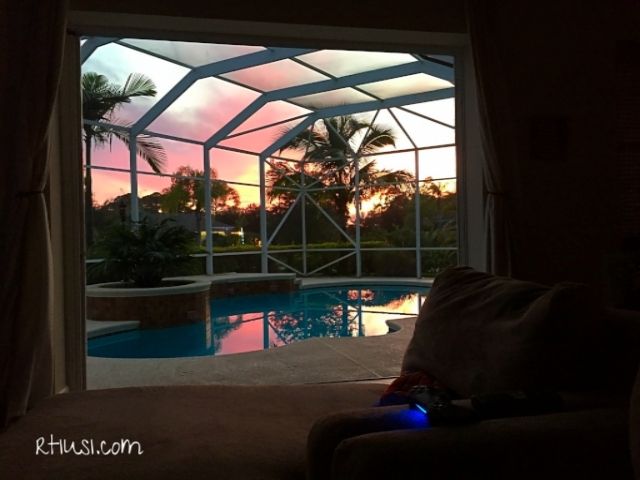 I'm not even going to try to explain myself for my sporadic absence. I will say that I have a 4 page list of things to write about (some of them Christmas-time sensitive) and I'm trying to get my tush in gear. I've slowly been trying to get the house ready for Christmas and thought I'd share some of the decorations this year.
The best part of decorating this year, is that it made me get things up on the walls and out of the way that I've been putting of for
months.
It also feels like our house is actually decorated, something that hasn't happened in
any
of the houses we've lived in, and certainly not so soon as 4 months since we've moved!! I'm excited to share the house with ya'll, especially the rooms that I've repainted. I figure, since there are surprises in the guest rooms for our family, I'll do an little "unveil" if you will next week, after they've gotten down here.
Onto the Christmas extravaganza!!
I decided to have a little red and white (and silver) Christmas this year. This is the same tree skirt that I used
last year
, and this is also the same dog that may have appeared. I don't think I have any new ornaments on the tree, but decided that since I put the colors of garland up, that I wouldn't add any extra "filler" balls. The tree topper is off at the moment because Scott thinks it's too "bright" compared to the LED lights. The tree base, I spray painted with
gold paint
affiliate
, with a light cover of this
looking-glass
affiliate
spray paint on top. The garland above is a Target dollar find. I might've went a little cray-cray with the dollar spot Christmas decor.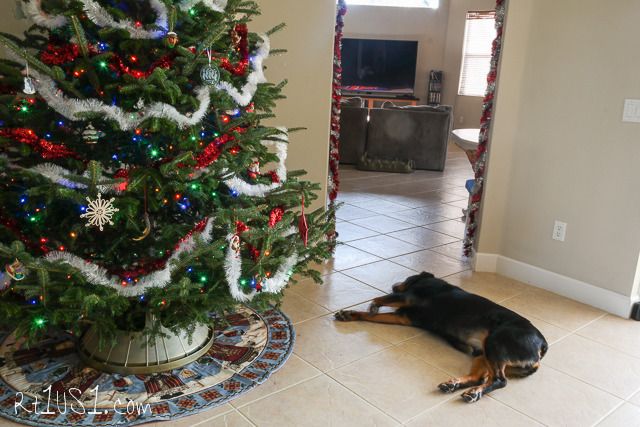 He's a big help, clearly. Both archways leading into our formal living (which is right now "the Christmas tree room") are trimmed with silver and red garland that I twisted together. They're held in place with
these clear Command strips
affiliate
that you can't even see. Unfortunately, due to the high humidity we're still experiencing- especially since we've had the doors and windows open- they don't stick
quite
as well as I hoped. That's code for my ass being on a ladder every night when I get home, putting them back up there.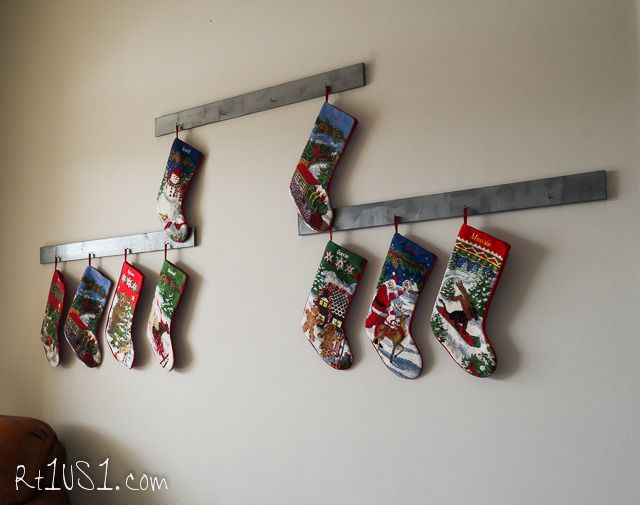 On the opposite wall, we have all of our stockings. Currently, we're missing three, which will be making their way down next week. Since we no longer have a fire place, and since we have this big empty wall, I wanted to figure out a way to fill it, if only for a few weeks. I took 42 1/2 inch long 1x4s that I had left over from another project, spray painted them

Rustoleum Pewter affiliate.

Then, I hung hooks on the back, and added some

brass hooks

affiliate

that I spray painted

oil rubbed bronze

affiliate

.

Can ya'll tell that spray painting is my go-to move?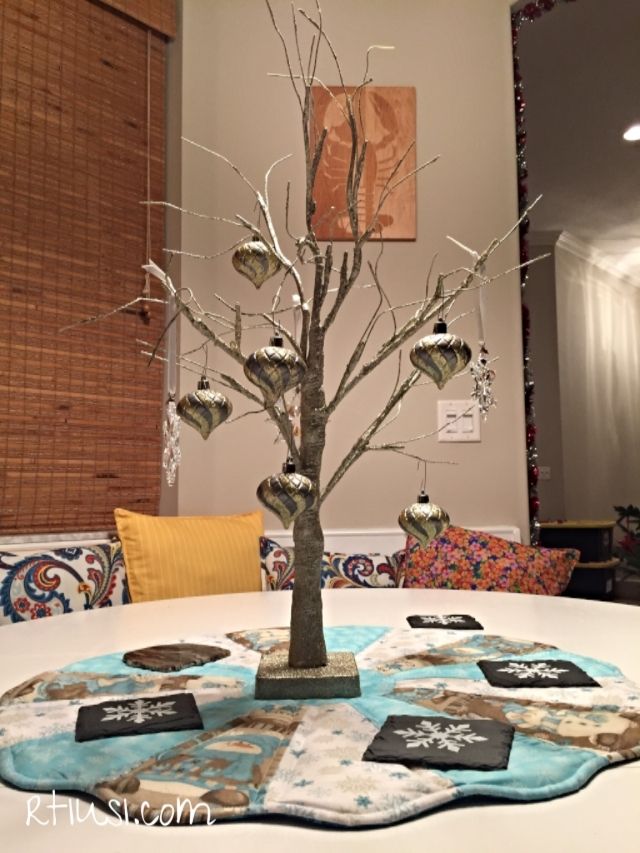 This is the little sparkly tree I got in my after-Christmas shopping
last year
. It's currently sitting on my new table in the breakfast nook. This year, it contains my Swarovski snows stars and a few nonshatterable bulbs. The coasters are from Target, and the snowman topper was made by my mother-in-law. I have to say it's my most favorite yet, and will probably be there all "winter" long to remind me that it
is
actually winter.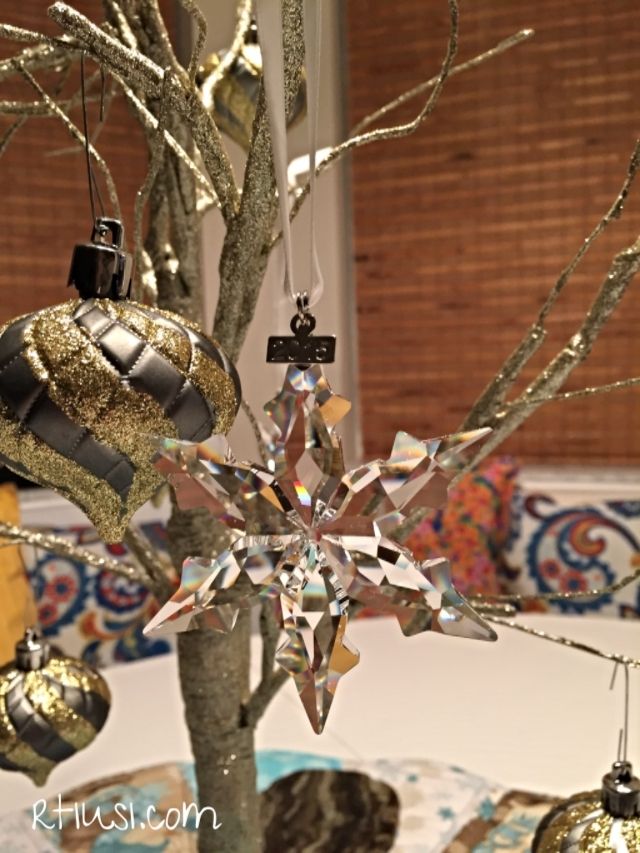 My 2015 Swarovski star is gorgeous. When the sun comes through the window in the morning, there's all kinds of little shimmery spots on my wall from them!
This Christmas, I've had more DIY projects that I've had before, and I almost forgot to mention the biggest
and most destructive
one.
I've been searching for an entry way table, and haven't been able to find one yet that is just right. Last year, my mother-in-law got me a bunch of little village pieces. I decided to use the half-wall in the entryway, looking into the dining room, anyway. I had a table cloth that I had saved from our wedding, to use as a white backdrop for photos. I threw that over the half wall, then stenciled "Let it Snow, let it snow, let it snow" on it withe craft paint. The craft paint bled through to the wall. Which is now my next painting project. I just told Scott "I want to paint the entry a different color anyway to offset it from the rest of the house." I'm not sure he believed me. Since the table cloth is huge, it flows over the other side. I put some white lights under it to give a nice little glow. Now, every time the dogs hear something I'm terrified they're going to rip the cloth and everything on it down. I'ts stressing me out!
Linking with Biana, Erin, and Jess!!