This park isn't nearly as packed as Magic Kingdom, and there's still a lot to do! Plus, the folks at Disney are working on some construction, so you know that within the foreseeable future, there are going to be exciting things! I have to say, I love the feel of Hollywood Studios- how it's laid out like a little town, complete with street signs which make for easy navigating. I also love that since it's smaller than the Magic Kingdom, it doesn't feel so overwhelming to me.
The first time we went to Hollywood Studios was our first time using our Magic Bands and Fastpasses. We learned a lot. For instance, even with the Magic Bands being linked to our annual passes, we still have to carry our yellow "annual passholder" card to get discounts for merchandise and food. Oh, and the discount on food only works for sit-down restaurants.
The Fastpasses are amazing, though it's a little tricky to get used to. Be sure you are well within your time frame to use it for rides. It seems if you're using it for a show, they're a little more relaxed.
Things to see:
Beauty and the Beast.
4.5/5 stars.
We Fastpassed this, since the only thing Scott really wanted to do was go on the Tower of Terror ride. We were in line well before our scheduled time for the Fastpass, but they let us in ahead anyway. I guess since there's so much seating available, it's not that big of deal. This abridged version of Beauty and the Beast is about 30 minutes long, and features all of our favorite characters and songs. I absolutely loved it; Beauty and the Beast was probably my favorite movie growing up.
Besides The Little Mermaid and 101 Dalmatians, anyway.
Around the corner from the show is a Frozen Boutique, with bunches of overpriced items. There is also a penny-press machine, so I paid .50 to get a Beauty and Beast penny. These are becoming my favorite form of souvenirs, because at .50, they are certainly the cheapest Disney has to offer!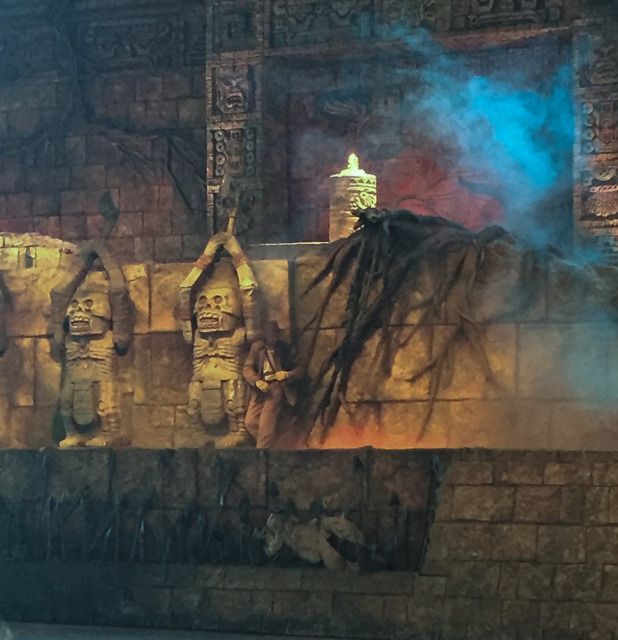 Indiana Jones Epic Stunt Spectacular.
4.5/5 stars.
Just as the name of the show states, the Indiana Jones show is full o' stunts. This would have gotten a full 5 stars if not for two things. One- this was the second show that we went to that day, and two shows when you're just there for the afternoon tend to take up a lot of time. The show itself
should
only be about 30-45 minutes. Which brings us to downfall number two. When they were changing scenes, they couldn't get some equipment brakes to unlock or something. So we had to wait about 15 minutes for them to get it working right. That's a little wait when it's 95 degrees outside, and there's a crowd packed into the theater! Overall, this show is great, though sometimes the "stunts" are a little over the top. Scott being a true
boy
enjoyed this much more than Beauty and the Beast.
Things to Do: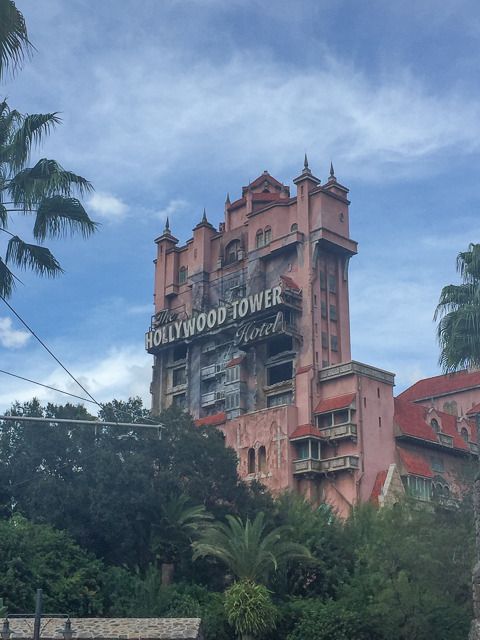 Tower of Terror.
3/5 stars.
We Fastpassed this, since Scott really wanted to do it. He bribed me into attending as well, with the promise of a Starbucks after. Tower of Terror is where we learned the ins and outs of the Fastpass a little more. We showed up a couple minutes before our allotted time, and when we scanned our bands, the Mickey scanner turned blue. We had no idea what this meant, and the attendant out front told us (we thought, but there was another group there having issues) to go ahead. We get ALL the way inside, and when we scan our bands at the second portal, we get told that it's not our "time" yet, and to go back outside. Ya'll there's no easy way to exit this place, without having to weave in and out of people. This is true for any ride line, and I kind of wish they gave you an easier "out." Anyway, we wait a couple minutes, scan our bands again, and lo and behold- Mickey turns green, signaling that we are, for sure, good to go.
Now, the ride itself. I
hated
it. It wasn't one of those rides that I hate and then I ride and I wind up loving. NOPE. Hated it. Every minute of it. you're in an elevator with about 20 other people. You have a seat belt on, and what I affectionately refer to as "oh shit bars" on either side of you. But you're sitting next to someone, so really, you only have one to grab on to. Then they zoom you up something like 13 stories. Maybe more. It felt like more. They open your death trap up to look out over the park and you think, "oh how cool!" And then they drop you. 5 stories or so. Then open the thing up again so you can see out. And then, FML, drop you again. Seriously, I was hunched into Scott, holding onto his arm the entire time. And also cursing him. The video and photo that came out of it, however, was fantastic. Just not close to worth the $200+ for the photo package to get it.
Where to Eat:
Studio Catering Co.
4/5 stars.
We've actually eaten here a couple times. The price is relatively cheap by Disney standards, and the food is tasty. I'd add a picture, but I'm apparently in the minority in that I want to eat my food instead of photograph it. We have tried both the Spicy Chipotle Ranch Chicken, and the Turkey and Cheese Panini. The Turkey was a little too salty for my liking, but overall, it's a great place to grab a quick bite to eat. There is plenty of patio seating, making it easy to find a spot. Your annual pass discount won't work here, by the way!
The Trolly Car Cafe.
5/5 stars.
We've also been here a couple times, as this is where Starbucks is housed. Which automatically gives it a 5/5 rating. I feel like this one runs more smoothly than the one in the Magic Kingdom, but that could be because they don't see the crowds that the MK see. The space is huge, making it harder to trip over each other while ordering your drinks. Also be sure to look up! I was entertained by the artwork and craftsmanship above while waiting to order. As with Studio Catering, we couldn't get our 10% off food here. It's okay, because coffee.
Happy Friday y'all! I suppose it's time to start Christmas shopping!!!
Linking with Coffee with Caitlin / Bright on a Budget /Cup of Tea / Della Devoted, Meet @ the Barre, and September Farm / The Farmer's Wife