I've been out of the game for a full month. Why? It's multi-part. First of all, getting back into the Accounting game at my new job. It's a lot of re-learning of a lot of things I learned 8-10 years ago as well as learning new things. I come home from work mentally exhausted, which I haven't felt in a job in a long time. The second reason is, that along with the new job- that I have the afternoon Thursday as well as Friday off with currently, I've had a little bug up my butt on doing house stuff.
House stuff that could have and should have been done when I had a month (more, actually) off. But I had a weird internal struggle with myself. I wasn't working, and I had enough saved to pay my bills for the month, but everything else was coming out of Scott's pocket. While he told me we were fine financially, and to go ahead and get the stuff needed to do these projects. I didn't feel like I could. So that resulted in a lot of my being in a funk and not getting much accomplished.
Pretty much the
day,
or at least the weekend, after I started working again, I decided to get some of these things checked off the to-do list. We've been at Lowes every weekend. We have
not
been to
Disney
every weekend. I've listened to approximately 3 audiobooks, which is my new favorite thing to do while undertaking the projects. I got the purple guestroom painted, using one of the colors I
mentioned back in August
. I've worked on getting that back together and can't wait to show you guys... once I get some art and pictures on the wall!
So it still may be a while!
I've got my next project (the guest bathroom/ all of the tile in the house) underway.
Now what's been going on this weekend? We managed to sneak away for the first time in a while...
Friday was a pretty relaxed day. We had house guests at the beginning of the week in the form of my favorite father-in-law and uncle, as well as two German Shepherds. When they hit the road Friday, I cleaned up a little, and then napped on the couch. And by "napped" I mean slept for three hours. I literally got nothing accomplished, except for a load of laundry and a whole lot of trashy t.v.
Saturday
we stayed local and made our way down to Ft. Pierce and
The National Navy UDT-SEAL Museum
for their 30th annual Muster & Music Festival. I'm going to save the whole shebang for Veteran's Day but ya'll, if you ever get a chance, it's a must see!
Sunday
I took off with Scott for Orlando and got to watch him appraise some trucks for work. Then we dipped on in to Disney's Animal Kingdom for literally, lunch and a quick walk through.
We had lunch at
Yak & Yeti Restaurant
in Asia, and it was great. I had tried to get reservations on our way into the park, but the soonest I could get was 3pm. It was Noon. So we decided, especially after the tasty aroma that was wafting out of the restaurant, to chance it. We had a 25+ minute wait, which we spent at the bar, and was able to order a frozen lemonade and some pork egg rolls. We both decided we could have order two plates of the egg rolls and have been satisfied with life. However, once we got seated, he ordered the Orange Beef, and I got the Crispy Honey Chicken. For $20 each, I would have thought there was going to be enough to share, but not the case. We both liked my Crispy Honey Chicken more than the Orange Beef, which had a little too much sauce on it for our liking. Overall, I'd give it a 4/5- mainly for the small portions, and for being told that they wouldn't sit us at a four person table when it's just us two. Which resulted in families who came in after us being seated before us. I understand not taking up a table of 6 or 8, but when the two person tables were barely big enough to seat two,
anyway....
Now on to the good stuff...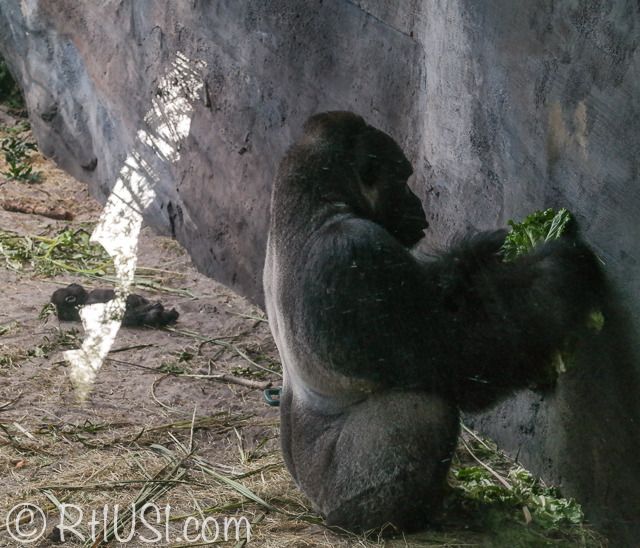 No one could really figure out why Dad was eating his lunch facing the wall, but the kid was PASSED out the entire time we watched. He lifted his head up once to look around, which is the only reason we knew he was real! He's 13 months old, while Mom is 25, and Dad is I'm not sure how old. Scott remarked on the way he was eating his lettuce... very similar to how I eat mine- NOT eating the crunchy, stocky part. To which I pointed out that the infant was sleeping in the same position Scott sleeps in- one hand down over his belly, and the other arm up over his head. Probably snoring.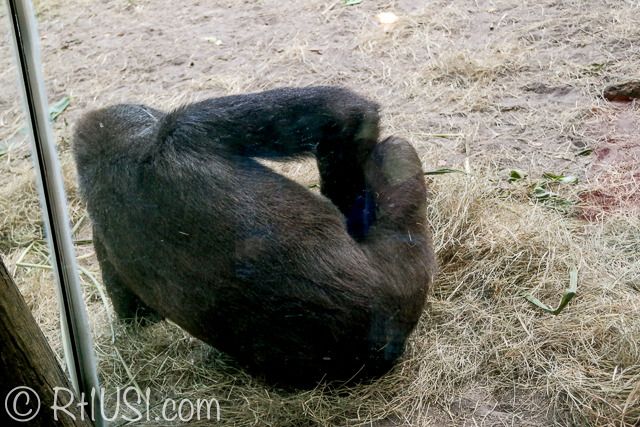 Another similarity between me and Mama- people are watching and she should be entertaining, but she says "meh, I'm taking a nap."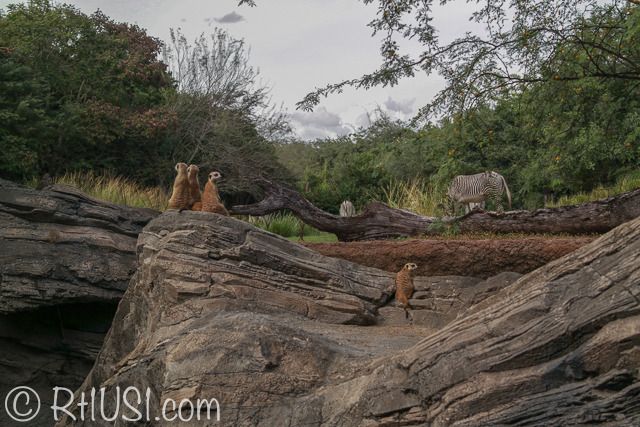 Meerkats and zebras! I swear one of our dogs are part Meerkat- he perches on the highest point he can get and acts as look out for the other two!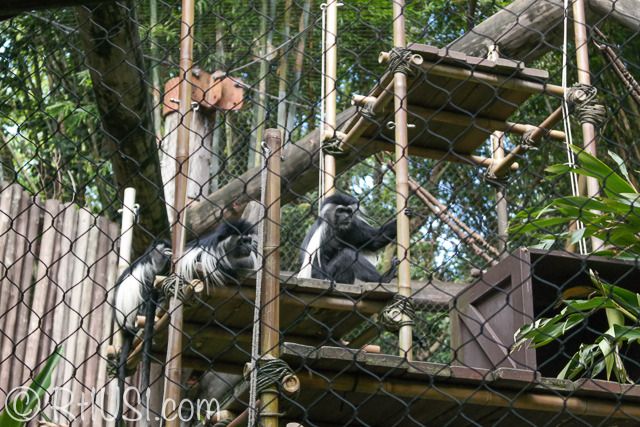 And this pretty well sums up Monday! Time to get to it!
Linking with Biana and Erin!