I decided that I enjoyed learning such extra facts about
Petticoat Junction
and finding memorabilia on eBay, that I'm going to continue Throwback Thursday as twice-monthly series. I don't have the memories of growing up watching Dick van Dyke, but the series is currently on Netflix, able to be streamed. It makes for great binge-watching and is another feel-good, child-friendly show.
The Dick van Dyke Show
aired on CBS from 1961 to 1966. The show is about the home- and work-life of Rob Petrie, a writer for the Alan Brady Show. Dick van Dyke (Rob), Mary Tyler Moore (Laura Petrie), Rose Marie (Sally Rogers), Morey Amsterdam (Buddy Rogers), and Larry Matthews (Ritchie Petrie) appear in all 158 episodes.
Up until the premiere, most housewives were shown cleaning house in dresses, heels, and pearls. Mary Tyler Moore wore capri pants, saying that the housewives she knew wore pants. It started a new fashion craze in the 1960s.
Sally Rogers was the first single, independent woman to be portrayed on US television.
It is the last show to be completely filmed in black and white.
Laura's maiden name was changed from Meeker to Meehan after Mary Tyler Moore divorced her first husband, Richard Meeker
Frank Adamo, Dick van Dyke's personal assistant and stand-in, appeared in the show in various parts, and was never credited.

Photo signed by Dick Van Dyke and Mary Tyler Moore- $15.95 on eBay. (Direct Link)

Morey Amsterdam wrote the theme song for the show, and it had lyrics.
The actors lip synced their own prerecorded vocals in every song that they performed during the show's run.
60 actresses auditioned for the role of Laura Petrie, and Mary Tyler Moore almost didn't go to the audition.
Dick's brother Jerry portrayed Rob's brother Stacey. Jerry van Dyke had his own series later on, My Mother the Car
Except for the first season, the other seasons use two opening scenes of van Dyke coming through the door. One with him tripping over the ottoman, and one of him side-stepping it. They were both used randomly through out the series.
The only episode to be shot on location was in Season 5: "The Gunslinger." It used Gunsmoke's set
Van Dyke, an avid surfer, fell asleep out in the ocean on his board, he floated so far out he couldn't see land and was once pushed back to shore by a ...pack (?) of dolphins.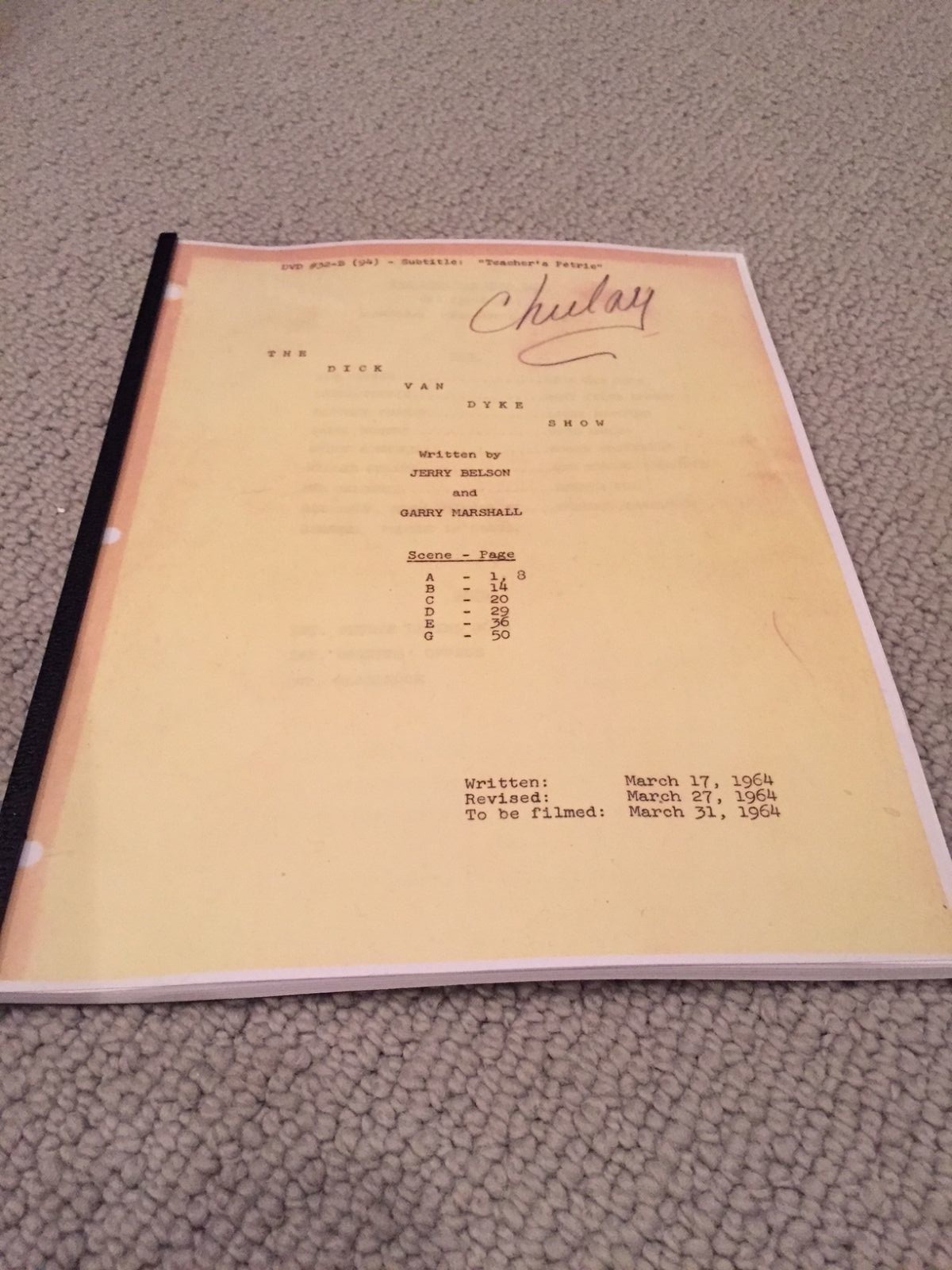 Reproduction of the script for "Teacher's Petrie" on eBay here for $50.
Crediting: Facts 1-10 are from imdb.com, 11 is from tv.com, 12 from todayifoundout.com